"The purpose of writing is to inflate weak ideas, obscure poor reasoning, and inhibit clarity. With a little practice, writing can be an intimidating and impenetrable fog." - Calvin, to Hobbes
---
The prequel would probably do well.

With all the references to the history of the Seven Kingdoms in the current show, (as well as references to other winters, and great gransdparents etc.) a writer could have a field day exploring that history and showing what "really" happened instead of how ancestors re-wrote history.

Given the thirst of GOT fans, I imagine there would be a lot of interest.
I never knew no Godfather. I got my own family, Senator."
---
Was SOO unhappy to see Ygritte take an arrow in the back...
Kit didn't let THAT little wildling get away...
..
"The purpose of writing is to inflate weak ideas, obscure poor reasoning, and inhibit clarity. With a little practice, writing can be an intimidating and impenetrable fog." - Calvin, to Hobbes
---
If you haven't taken it in before, check out these three
Atlantic
writers recap of each episode of Game Of Thrones...
Game of Thrones Makes Time for Love Before War
What did everyone think? A lot of plot adjustments and inevitabilities...but it's good to have it back...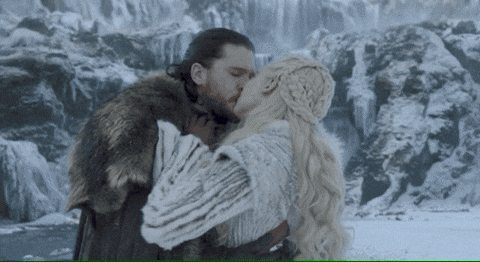 ..
"The purpose of writing is to inflate weak ideas, obscure poor reasoning, and inhibit clarity. With a little practice, writing can be an intimidating and impenetrable fog." - Calvin, to Hobbes
---